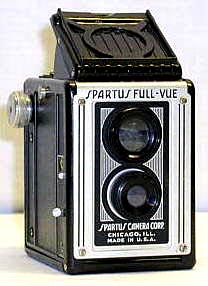 Spartus Full-Vue Cameras
(1948-60)
This is a reflex style twin lens box camera. It has a simple single shutter speed and set aperture and some models can be used with a flash. The camera had a art-deco faceplate that came in various patterns, so there are several designs to look for. These cameras use type 120 roll films and are similar to the Spartus Super R-I (right), identical to the Full-Vue except it has a focusing lens and adjustable f/stops. Book value (either camera): $10 +/-.

Spartus Corp. began as Utility Mfg. Company of New York around the mid-1930s. It was during the 1940s that Spartus bought out Utility, so there are cameras to be found under the Utility name as well. In 1951, Spartus was purchased by an employee, Harold Rubin, who renamed the company Herold Mfg. Co. Jack Galter, former President of Spartus, started a new company called Galter Products about the same time. Both companies ended sometime in the 1960s.