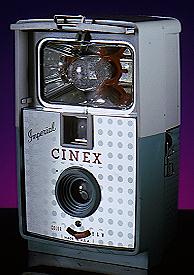 Imperial Cinex Camera
(1964)

Made by the Imperial Camera Corporation of Chicago, Ill., this camera came in various color combinations: red, blue, green (shown), brown, yellow and black. It was made of plastic and simple to use.

The Cinex used Type 127 roll films. The flash used M3 flashbulbs and the flash reflector was hidden behind a pull-down door when not in use. The current collector's book value is: black: $1-$10, color versions: $12-$20.