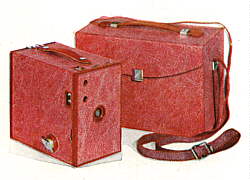 Kodak Brownie No. 2 Box Camera
(1901-1933)

Early versions were made of cardboard, black in color, and were equipped with Meniscus lens and Eastman Rotary shutter. It used 120 roll film and the No.2A models used 116 film.

Later versions were made of aluminum and came in five colors: red (shown), brown, green, blue (shown) and gray. Matching case was optional and the list price of camera and case was $5 in 1929. The current collectors book value is $40-$60 for a color version and $1-$10 for a black one.