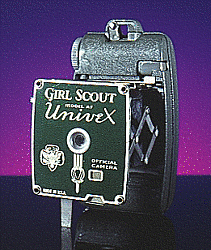 Girl Scout Model AF Univex Camera
(1936)

This is a special model of the AF series cameras made by The Universal Camera Corporation of New York. It's a small folding camera extending with trellis style arms and used No. 00 roll film. This camera, made especially for the Girl Scouts, is but one of a series of premium cameras by Universal and originally sold for $5 in 1936.

The front-plate is green and carries the Girl Scout name and trefoil emblem. The body is a lighter green made of cast metal. This model is considered uncommon, even rare. The current collector's book value is: $250-$350. The one pictured is in mint condition.