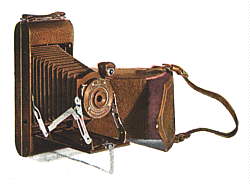 Pocket Kodaks, Series II No.1A
(1928-1932)

Originally marketed to people with discriminating taste, this camera came covered with real leather and matching case. There was a choice of four colors: green, gray, blue and brown (shown). It featured a Meniscus Achromatic lens and Kodex shutter.

In 1931 this camera sold for $26. The current collector's book value is: $65-$100 with original case and box. Most often found as camera by itself: $20-$30.