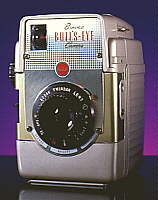 Kodak Brownie Bull's-Eye Camera
(1954-1960)
This Kodak model was made of Bakelite plastic and was equipped with a focusing Twindar lens. It came in two versions, black or gold (shown) and used 620 roll films. You could attach a flash to it for indoor pictures.

The current collectors book value is: black: $12-$20, gold: $15-$30.